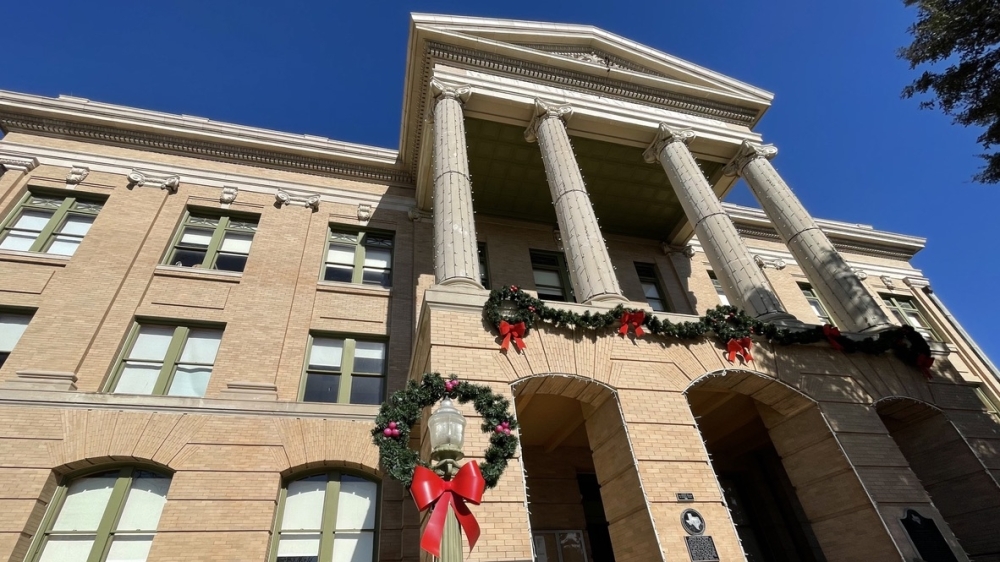 UPDATE: Following concerns over textbooks, Williamson County approves COVID-19 relief funds for Round Rock ISD, Leander ISD
[ad_1]
The Williamson County Commissioners Court unanimously approved the allocation of federal COVID-19 relief funds to Round Rock ISD and Leander ISD at its December 21 meeting. (Claire Shoop / Community Impact Journal)
Editor's Note: This story has been updated to include a statement from Round Rock ISD.
In two unanimous votes, the Williamson County Commissioners' Court approved the allocation of additional federal funding for coronavirus aid – with some attached stipulations – to Round Rock ISD and Leander ISD at its meeting on the 21st. December.
Commissioners initially delayed distribution of Coronavirus Aid, Relief and Economic Security Act funds to RRISD and LISD at its December 14 meeting due to concerns about inappropriate books in school libraries and critical race theory in the school curriculum, despite allocating additional funds to all other neighborhood public schools in the county.
"I think we were really exceptional in the way we distributed these funds to the public. We have chosen to handle this in a different way than other countries. We chose to return this money to our communities where it was needed, "County Judge Bill Gravell said. "But please don't get me wrong, everyone who has received funds must be responsible. No one is above the responsibility.
In approving $ 5 million in funding for the RRISD, the tribunal of commissioners added that the district must adhere to its policies and established timelines for reviewing books against which parents file complaints.
In order for LISD to receive the $ 3.7 million set aside, the district must use the money to reimburse itself for eligible positions settled with the county treasurer, and must conduct a review of 11 pounds for removal from campus and digital libraries. The district previously removed these 11 books from student-chosen book clubs after a separate review process.
According to District 2 Commissioner Cynthia Long, who brought forward the motion regarding LISD, the district must complete this review by April 30 and will not receive funding from the county's CARES Act until after this review has been completed.
"I want to give this necessary money to schools that have legitimate COVID[-19]- the expenses related to the needs, "said Long. "My very simple request to LISD is to give clarity to the community and complete the book review process. I am not dictating what the outcome of this process should be.
In one statement posted on its website, LISD said it appreciates "the opportunity to continue a dialogue with Williamson County officials regarding federal funding for CARES," and that the district will consider its options after returning from winter vacation.
"We have spent 16 months working with our community and our board of directors to refine an educational material review process and policy," the statement said. "The past 16 months have taught us that decisions about educational resources and children are not uniform for all families. This is why we have rallied to the choice and the voice of our community and our families. We will continue to do so, aligning with the vision, local control and governance of our independently elected Board of Directors. "
Over the past year, the LISD Board of Trustees passed policy changes following a review of the titles of student-chosen book clubs, and in September former LISD Trustee Jim MacKay, cited inappropriate content in school literature as the reason for his resignation from the school board.
In an emailed statement, RRISD said it was pleased Williamson County Commissioners approved the additional funding for the district.
"This funding is specifically intended to help school districts overcome the additional expenses caused by the pandemic and is a much-needed and much-appreciated resource as we continue to navigate these difficult times," said Jenny LaCoste-Caputo, Head of RRISD. public affairs and communications, in an email.
Ahead of the Dec. 21 decision, commissioners said they met with leaders from both districts to learn more about their book review process.
Additionally, Austin-area Democratic State officials John Bucy III, Vikki Goodwin, Donna Howard and Celia Israel said in a Dec. 20 letter to the Commissioners Tribunal that they were disappointed with the court decision to exclude LISD and RRISD from funding "political disputes". . "
"These two districts serve the overwhelming majority of students in Williamson County and the funding in question could go a long way in addressing the challenges they continue to face throughout the pandemic," the letter said. "In short, the students in these school districts deserve the same support as any other student in Williamson County."
On December 14, Williamson County set aside $ 14 million of the remaining $ 18 million in the CARES Act for public school districts in the county, as well as private and charter schools interested in this funding. All federal funds from the CARES Act must be spent or repaid before the end of the year.
The money approved Dec. 14-21 represents Williamson County's second allocation of CARES Act funding to local schools. In October 2020, the county approved $ 12 million for schools in the area.
"If we had used this money for other projects, we would not have even discussed sending money to schools, because no money was needed to go to schools," said the district commissioner. 3, Valerie Covey. "We are using the remaining funds to help schools. "
[ad_2]