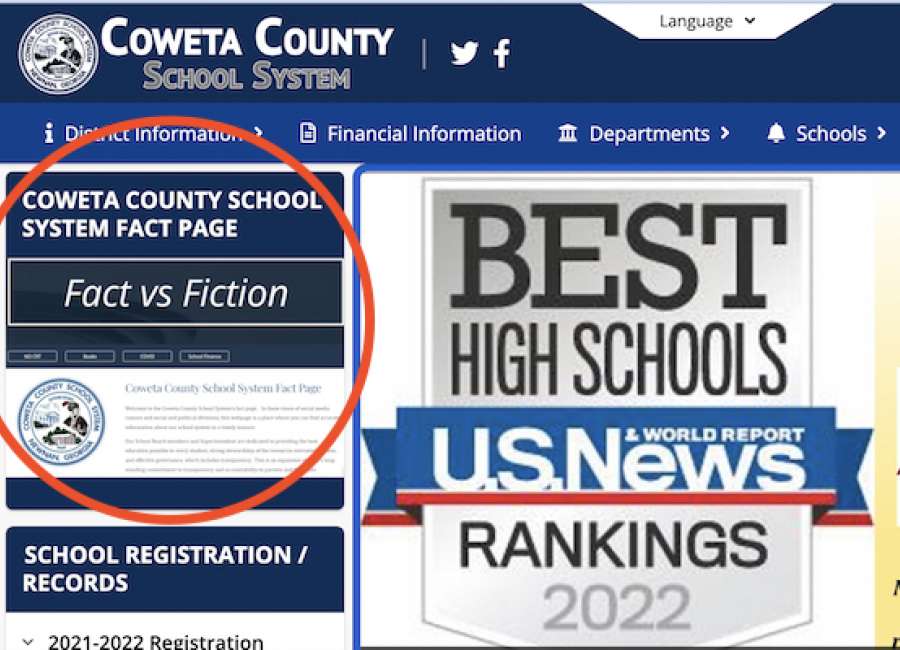 School system launches information page to fight misinformation
School officials have launched an information page about the Coweta County school system in response to recent "outrageous and unsubstantiated" claims centering on burning issues such as critical race theory and financial accountability.
The clickable link can be found in the upper left corner of the school system website at www.cowetaschools.net .
"In these times of social media rumors and social and political divisions, this webpage is a place where you can find timely, accurate information about our school system," reads the introduction.
Visitors can navigate through a series of questions and answers by scrolling, or jump to a particular topic using the tabs at the top of the page. That social and emotional learning is being used to covertly teach divisive concepts and that students are being vaccinated against COVID-19 at school are among the charges solidly refuted on the page.
The Coweta Schools page specifically addresses various claims made widely by and in favor of certain political candidates in the upcoming local elections – claims that have been consistently and frequently refuted by state and local school officials.
In Cherokee County, the school district recently added a similar component to its website (www.cherokeek12.net ). The page was created "due to the increasing volume of misinformation currently being spread about our school district and our outstanding teachers and staff," according to the Cherokee County School District.
A federal political action committee — the 1776 PAC Project — is backing slates for school board candidates in Coweta and Cherokee counties, and apparently in other Georgia school districts as well.
Letters sent by the 1776 PAC Project in support of Coweta and Cherokee county candidates contain identical claims: that "critical race theory is in the schools"; that "sex graphic comics are available in school libraries"; that "elementary school children receive books on what it means to be transgender"; that "schools distribute anti-Second Amendment materials"; and that "classroom reading material includes essays on why the oath of allegiance should be banned". Each accusation is directly addressed and specifically refuted by Coweta and Cherokee school officials.
Coweta's information page will be updated frequently, according to the school system's website, but parents and guardians don't have to wait for these updates if they have questions.
"Call your child's teacher, or your school principal, or the superintendent's office," school officials advise on the page. "They are always happy to answer your questions or help you in any way they can."