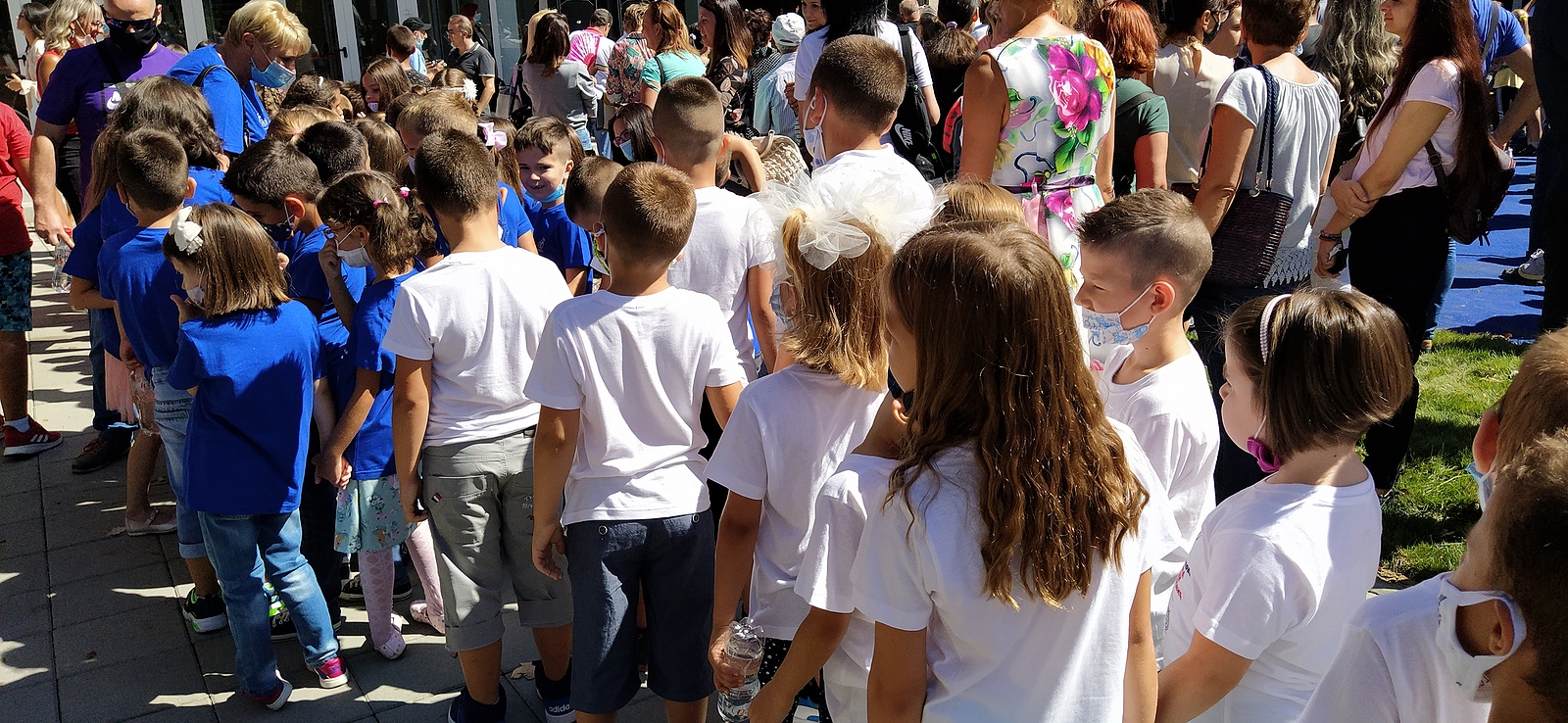 In Serbia, free textbooks disrupt a foreign-dominated market
A foundation in Serbia offers schoolchildren free textbooks as PDF downloads. But not everyone is happy.
A proverbial storm in a cup of tea is raging in Serbia, following the decision of a charitable foundation to offer free textbooks in PDF format. Criticism of the Alek Kavčić Foundation, headed by a Serbian Carnegie Mellon professor, comes mainly from the Association of Textbook Publishers of Serbia, which represents the interests of private publishers in the country.
---
---
In Serbia, primary and secondary education, at least on paper, is free. However, textbooks are not. In one of the poorest countries in Europe, these expenses have long bothered many families. A typical textbook costs around 800 Serbian dinars (6.8 euros), so the complete set can easily exceed one hundred euros per child each year.
Textbook publishing is big business. According to Serbian media, in 2019 the market was estimated at between 35 and 50 million euros.
In many European countries, textbooks for primary school pupils are either free or subsidized. According to the education portal of the European Commission Eurydice, in Germany, as a rule, children receive textbooks. The same is true in Austria.
In Albania, starting from the 2018-2019 school year, free textbooks were provided from the first to the fourth year, according to Eurydice.
Although there have been sporadic programs in Serbia to help struggling families by distributing free copies, the general rule is that parents should fund the books. According to a statement by the Association of Textbook Publishers, one in six pupils in Serbia received free textbooks, as part of a public program aimed at helping socially vulnerable families.
Equity and Accessibility
Legally, issues of equity and accessibility are circumvented by the provision that textbooks are optional and parents are under no obligation to purchase them. Not wishing to hinder their child's education, however, the vast majority buy them.
This was the status quo in Serbia until earlier this year, when the Alek Kavčić Foundation started offering PDF versions of textbooks for free download on its website. Some of them were produced specifically for the foundation, but most of the editions come from the National Institute of Textbooks, which has experienced difficulties since the liberalization of the market.
Currently, the foundation offers textbooks on various subjects for elementary school students, and says more are on the way. The challenge to traditional publishers also comes at a time when elementary schools are legally required to select which textbooks they will use in the upcoming 2021-22 school year.
"Free textbooks for all primary school students is something I have wanted for a very long time. Something that I wanted to give back to the country in which I was born and which educated me," says Mr. Kavčič Emerging Europe.
When it comes to private publishers, Mr Kavčić does not mince his words.
"I think the fact that primary education is compulsory, but that the textbook market is free, where publishers compete for profit, is completely wrong," he explains.
Public response has been overwhelmingly positive, with over 9,000 manuals downloaded on the day the service went live.
Mr. Kavčić further recounts Emerging Europe that some schools have in fact already decided to use the foundation's free textbooks in the classroom.
under fire
Almost immediately, the foundation came under fire from the Association of Textbook Publishers and one of the largest textbook publishers, Germany's Klett.
In a statement posted on the Association's website, they called the offer of free textbooks "cheap political gimmicks aimed at a person's self-promotion" and expressed their view that it would "fundamentally reduce the quality education in Serbia".
Professor Mićo Mitrović, President of the Association of Textbook Publishers and owner of the Saznanje publishing house, tells Emerging Europe that PDFs as manuals will not suffice.
"Because all the research – I am a physicist, I teach teaching methodology at the Faculty of Physics and I do science in this field – all the scientific research shows that the best combination for teaching is the live speech from the teacher and a written manual," he says. "A PDF is not that. Written manuals, and that's it.
Klett director Gordana Knežević Orlić also claims there is "political marketing" at play.
According to the Serbian daily danas, the association also sent a note to schools in Serbia telling them that the PDF textbooks on the site are not authorized for use by the Ministry of Education. This is a large gray area, as PDFs are textbooks whose print editions have already been approved for use, but there is the question of whether or not PDFs qualify as a "digital textbook" under the provisions of Serbian law.
Among the many problems that publishers have with the arrangement, copyright and print quality issue are the most prominent. As Serbian media reported, the agreement between the foundation and the Institute of Textbooks is such that the foundation purchased 1,000 copies of each textbook and also obtained the right to put the PDFs online where individuals may access it for personal use, with copyright retained. by the institute.
The association questioned this arrangement, calling it "suspicious".
Ivan Perić, program director at Klett, claims the foundation "worked illegally" because it "downloaded the institutes' textbooks without asking the authors."
But Mr. Kavčić denies these claims.
"We bought the printed editions [from the Institute for Textbooks] and we expect authors to receive royalties," he says.

Didactic value
According to Serbian law, there are provisions on the actual print quality. It has also become a bone of contention between the publishers and the foundation. Publishers criticized the educational value of the PDF format and noted that if parents print them themselves at local print shops, the cost will actually be more than just buying a new textbook.
In response, Mr. Kavćić pledged to offer the possibility of printing the textbooks on demand at the price of two Serbian dinars per page, well below the market price. Mr Kavčić considers this to be a "realistic price" and claims that a biology textbook which usually costs around 1,000 Serbian dinars will only cost 400 dinars as such.
Back and forth between Kavčić and private publishers continues. More recently, Mr Kavčić shared on Twitter a screenshot of a text message in which, allegedly, a school principal tells teachers that they will not be able to teach students who have the free textbooks and that the social services will "take care" of the parents.
Meanwhile, Prof Mitrović says the media in Serbia overemphasizes the foundation.
"The other side gets a disproportionate amount of time and our statements are cut off. And usually they don't [call us]," he explains.
By offering textbooks for free, the Alek Kavčić Foundation has clearly shaken up a market that for years has been dominated by Klett. Since the Serbian market was liberalized following the fall of Slobodan Milošević in 2000, resentment against foreign market players has remained high.
Moreover, public sentiment in Serbia tends to bristle whenever something turns out to be cheaper or free in more developed countries than Serbia.
silent ministry
Recently, Serbian President Aleksandar Vučić said that he would suggest to the government that textbooks in Serbian, geography and history should be produced by the state and not by private entities.
Currently, the dispute between the publishers and the Alek Kavčić Foundation is ongoing. The body that could decide the question, the Ministry of Education, has so far remained silent.
As for publishers, Professor Mitrović says that everyone supports free textbooks, but PDFs, again, are not enough.
"This is not an action with the aim of improving conditions in this area [education]it's just a step backwards if you're promoting PDFs that aren't textbooks that provide the best education," he says.
Mr. Mitrović also notes that his publishing house Saznanje, as well as many other publishers, distribute free textbooks to pupils who cannot afford them but who are not covered by the programs of the Ministry of Education which help underprivileged students as well as charities, such as children's group homes, organizations that support people with disabilities and others.
"Free textbooks, of course, we all support that, but it should be done with normal textbooks that are suitable for teaching," he says.
---
Unlike many news and information platforms, Emerging Europe is free to read, and always will be. There is no paywall here. We are independent, not affiliated with or representing any political party or commercial organization. We want the best for emerging Europe, nothing more, nothing less. Your support will help us continue to promote this magnificent region.
You can contribute here. Thank you.