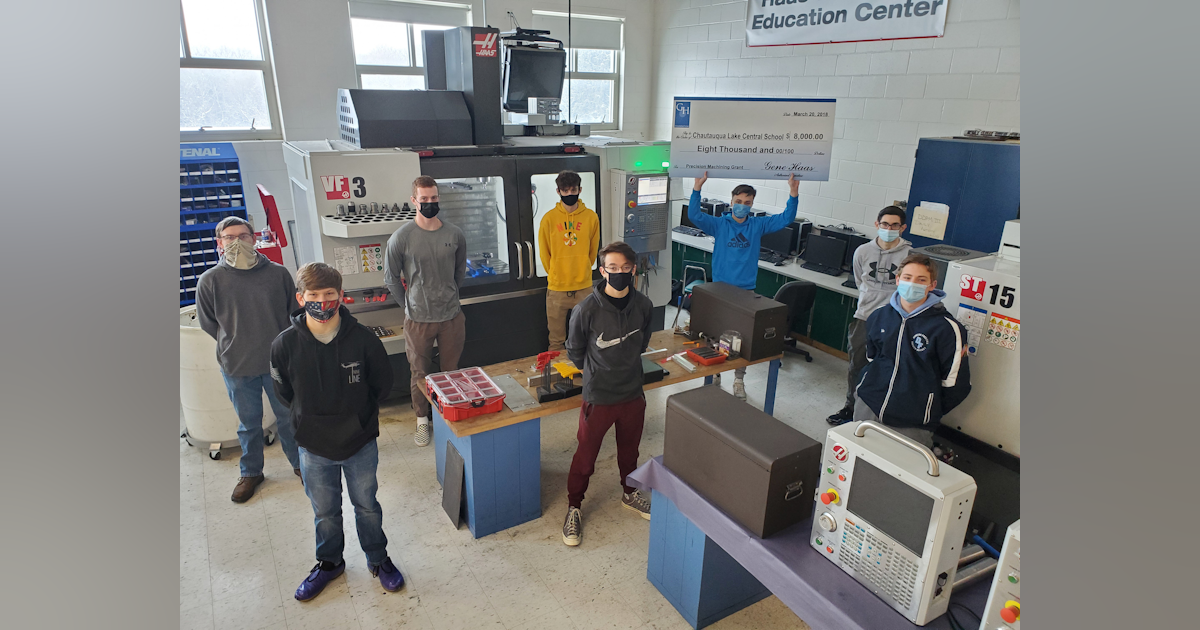 Doing the Work: Local Makers Help Create High School Curriculum
There are two types of people: those who have ideas and those who turn those ideas into reality.
Jay Baker, CEO of Jamestown Plastics, along with fellow fabricator, Randy Stuart, former owner of Stuart Tool and Die, turned their idea into a reality that will have a lasting impact on their community in Western New York.
It all started when Baker saw the need for an education system that provided the kind of workers his company, which supplies thermoformed products for the automotive, electronics, general industrial and consumer goods, needed.
Involved in education for many years, serving as school board president at age 32, he explored the options available locally and in the region and decided that the way forward was to revive the old workshop training.
But his program had a twist. "Just like schools have boys and girls scout clubs, why not have a crafting club? I called Stuart with this crazy idea, and he agreed. So they created a STEM-focused club for students who want to learn how to "succeed" on their own in a state-of-the-art manufacturing lab.
The hugely popular Manufacturer's Club has evolved and been incorporated into the Grade 7-12 curriculum that goes beyond STEM. And in June 2018, Chautauqua Lake Central School opened its new STEM lab to provide students with experience and skills in engineering, technology, and applied math. Students gain real-world experience by learning how to take a concept and create a physical product using CAD (computer-aided design), computer-aided machining (CAM), and computer numerical control (CNC).
As the program provides high-level skills, students can earn up to 30 Rochester Institute of Technology (RIT) credit hours.
What must change?
Baker said parents' perception of their children's upbringing and expectations needs to be broadened. "If a student wanted to do technical training, they had to be bussed to another location as part of their day and that was complicated and tiring," he explains. "But when the program is directly at school, it makes it easier and, more importantly, accessible and engaging for more students. This club has become the most popular at school, which shows that there is a need for it. As parents, we need to understand what interests our children and let them follow a route that suits them, and not be stuck in our idea of ​​what their education should look like.
What Baker finds particularly exciting is that advanced technology gives students the opportunity to try out these skills. "The introduction of this technology at the college age is necessary; we don't have to wait for high school.
And when students discover that they have an aptitude for this type of learning, it will eventually allow them to explore careers in manufacturing. Baker cites the example of his town's high school valedictorian who got involved in the program. "He's a brilliant young man, and in his speech he highlighted the program and said it was the most important part of his upbringing and it inspired him. He said that until he got involved in this program, he had no idea what he wanted to do after high school and learned that he wanted to "do stuff." He is now working at RIT on his Masters in Engineering.
A master plan for education
While technical education was once seen as a program for those who weren't academically proficient, now it's the best and brightest students who go through the STEM program, Baker says.
Baker notes that some children who were bored in school have thrived in this program. "These kids are bright and driven and they now have an outlet for their talent," says Baker.
The program must be organized carefully, says Baker. "When developing this program, it is especially important to have instructors who are willing to learn the new technology. We have had many guest instructors in this program to ensure the skills are applied to real-life examples."
Baker and Stuart hope to use Chautauqua's curriculum as a model for other school districts across the state — and perhaps even the country.
"We've created a blueprint that shows manufacturers how they can impact educators," says Baker. "As children learn to make things, they also learn problem-solving and critical thinking skills that are necessary not just in manufacturing, but in any career path."